The research in our group lies at the broad interface between nanomaterials science and biotechnology. This rapidly advancing research area is commonly termed as nano-biotechnology. Our research includes the basic study of structure-property relationships of nanomaterials and application of this knowledge in the development of innovative materials and functional materials systems. We are interested in nanostructured materials such as porous Silicon and their interface with soft matter e.g. hydrogels, biomolecules, and living cells. Understanding these interfaces allows us to rationally design biosensors for detection of biological and chemical toxins, new drug delivery platforms, and functional responsive materials.
News and Media
Technion Team Wins Discovery Award as Part of Nesta's £10 Million Longitude Prize
Team Prismatix developed a rapid antibiotic susceptibility test, winning an international prize as part of Nesta's Longitude Prize competition
Read more…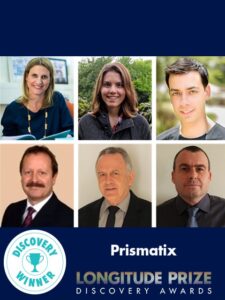 Team Prismatix: Prof. Ester Segal, Heidi Leonard and Liran Holtzman from the Department of Biotechnology and Food Engineering at the Technion (upper panel, left to right). Prof. Leigh Canham from the University of Birmingham, Prof. Ofer Nativ and Prof. Sarel Halachmi from the Department of Urology at Bnai Zion Medical Center (Lower panel)

Just Published
Arshavsky-Graham S., Massad-Ivanir N., Segal E.*, Weiss S., Porous Silicon-Based Photonic Biosensors: Current Status and Emerging Applications, Analytical Chemistry, published online (2018).
Leonard H., Colodner R., Halachmi S., Segal E., Recent Advances in the Race to Design a Rapid Diagnostic Test for Antimicrobial Resistance, ACS Sensors, published online (2018).
Massad-Ivanir N., Bhunia K., Jelinek R., Segal E., Porous Silicon Bragg Reflector/Carbon Dot Hybrids: Synthesis, Nanostructure and Optical Properties, Frontiers in Chemistry, published online (2018). Open access
Krepker M., Zhang C., Nitzan N., Prinz-Setter O., Massad-Ivanir N., Olah A., Baer E., Segal E., Antimicrobial LDPE/EVOH Layered Films Containing Carvacrol Fabricated by Multiplication Extrusion, Polymers, 10 (8), 864 (2018). Open access